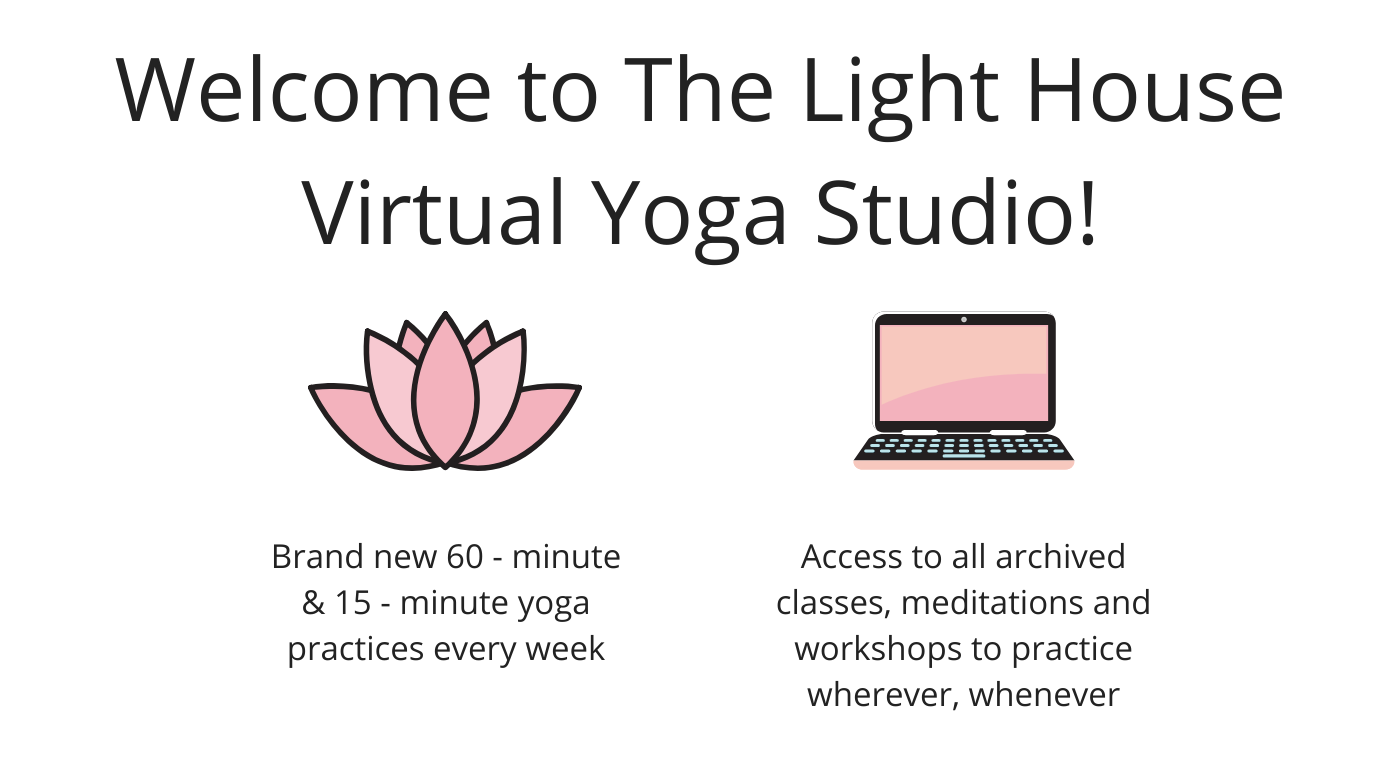 Stay motivated and accountable to practice at home by scheduling brand new classes & meditations into your week or practice when it fits you best by accessing the archives anywhere, anytime.
This isn't your typical yoga. This is 'do whatever the f*ck you want' yoga.

I don't believe that there is a 'right' or 'wrong' way to do yoga.
I believe that the only 'right' way to do yoga is the way that feels best for you, in your unique body, with your beautifully authentic set of needs.
Who are these classes for?
Anyone wishing to deepen their yoga practice in an affordable and accessible way
All levels of yogi's, from new to advanced
Anyone who wants to deepen their understanding of their Self through a physical practice
Yogis who want to unite their mind, body, breath and spirit
Anyone craving growth as a human being and soul
These classes are not suitable for anyone who is pregnant and, of course, please consult with your doctor before starting any new physical activity.
Who are these classes NOT for?
Anyone looking to perfect their handstand or get a yoga butt
Yogis that only want an asana/pose focused practice
Yoga classes at The Light House Virtual Yoga Studio are all about giving you space to holistically grow as a being: mind, body and soul.
The classes that you'll find here are designed to challenge you and make you uncomfortable so that you can learn about yourself and your Self.
The Virtual Yoga Studio offers you a space to access brand new weekly classes and meditations. You can ALSO access all the archives so you can take your practice with you on the go.

This means you can:

Practice with an experienced teacher twice a week
Practice wherever you want, whenever you want
Access yoga in a way that fits your lifestyle and budget
Your membership includes:
2 new yoga classes a week
1 new meditation a week
All past archived classes
Classes that go with you wherever, whenever
Exclusive access to:
Yoga Sculpt with Sue
Kundalini Yoga with Ashely
Meditations with Shanaz
Bonus workshops with guest teachers
Monthly issue of The Light House Magazine, featuring articles by guest writers
All this for one low price a month!
The Light House Virtual Yoga Studio offers two types of classes that are created for all levels of yogis.
Flow & Let It Go
This is a 60 minute class designed to help you connect with your body, breath, energy and intuition. Every class begins with a grounding breathing practice before you move into a gentle warm up. It then builds into a peak pose before you wind down with a meditation, relaxing and deep stretches and finally, everyones favourite part, Savasana.
These classes move fluidly so you can become familiar with what your body likes, wants and craves in the moment.
You are always encouraged to go at your own pace and modify poses to fit your needs and desires best.
Yoga Express
This is a 15 minute practice designed to help you fit yoga into your busy schedule. The focus of each class is always changing. Some classes are meant to ignite your chakras or help you relax and others are built to energize you for the day.
The purpose of Yoga Express is to give you a space that makes yoga accessible within your busy schedule.
Plus weekly 10 Minute Meditations

These are designed to help you find a few moments of stillness and mindfulness during your week so that you can reconnect with the present moment and find your ease. The topic of each meditation changes and in the archives you can find meditations created to connect you to your intuition, help you release pain from your past and spread health and happiness into the world.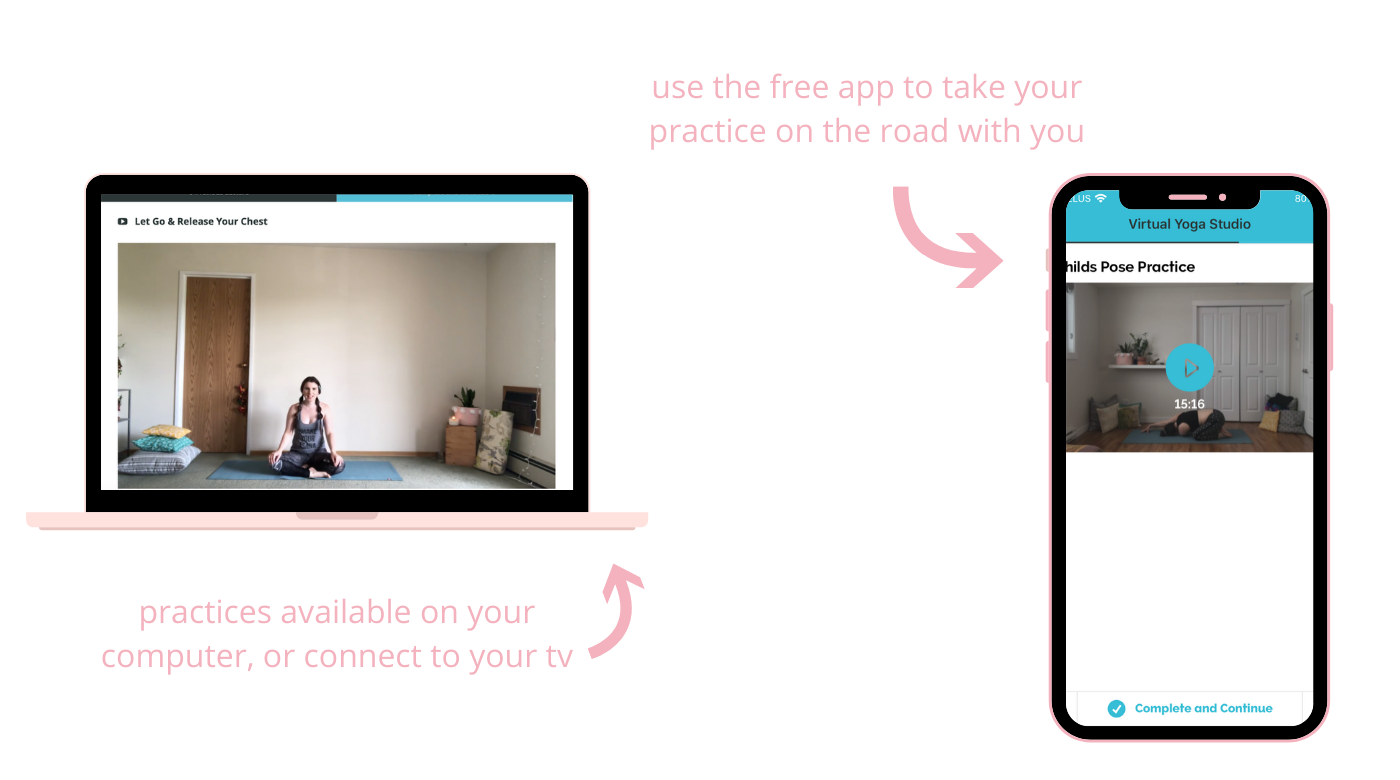 Course Curriculum
Welcome to the Virtual Yoga Studio
Available in days
days after you enroll
The Light House Magazine
Available in days
days after you enroll
Create Your In-Home Studio
Available in days
days after you enroll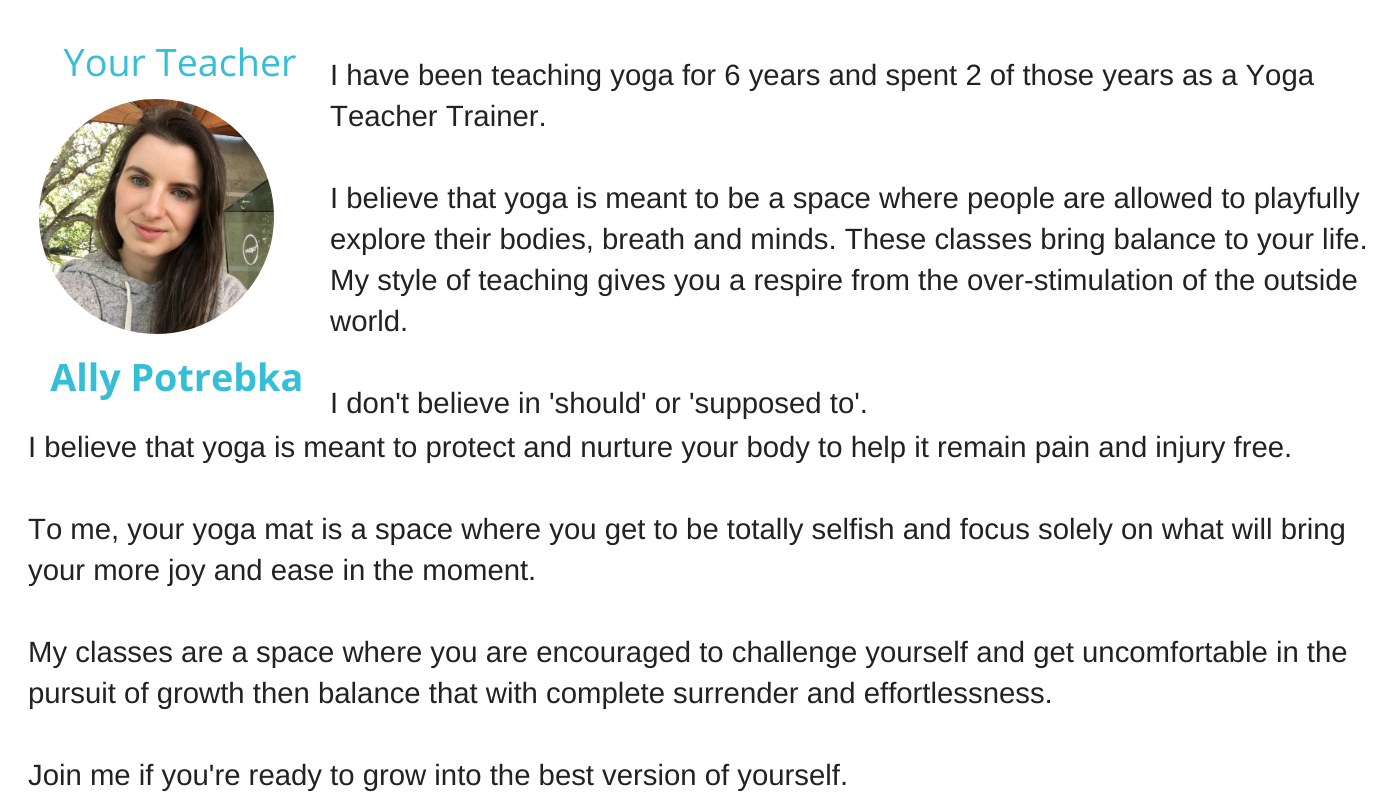 Frequently Asked Questions
How long do I have access to the classes?
You will have access to all new and archived classes and workshops as long as you remain a paying member of the Virtual Yoga Studio community.
What if I am unhappy with the classes?
You can unsubscribe at any time and due to the nature of the classes, there will be no refunds granted.
Do I have to know yoga to do these classes?
Nope! All classes are suited for all levels of yogi's. I offer plenty of variations so you can set your own challenge level.
Do I need props?
While I mention props to enhance your practice, they are never necessary. A few pillows and a blanket from your couch can come in super handy!
I have bad internet at home, can I still use this?
Of course! 2 classes a month will be available to download and the Teachable app allows you to do the classes, workshops and meditations wherever, whenever.